Tuesday, December 28, 2010
I never liked

John Wayne

. His tough as nails, "The Duke" appeal never found resonance with me. The only Western I ever liked was

Kenny Rogers

in

The Gambler

. Yet, I can honestly say, I was very taken in by

The Coen Brother's

remake of

True Grit

. I don't know if the original movie had such bombastic and articulate dialogue, or hilarious statements of the obvious, but this artfulness was a good part of this movie's appeal for me. It's also less shoot'em up and more road comedy.

Jeff Bridges

is a hoot as one-eyed Rooster Cogburn and new comer,

Hailee Steinfeld

, Mattie Ross, puts the truth in

True Grit

.
Joel and Ethan Coen, best known as the Coen Brothers, have created some of the quirkiest and most daring films to come out of Hollywood in the past 25 years: "Raising Arizona," "Fargo," "The Big Lebowski," "Burn After Reading," "No Country For Old Men," "O Brother, Where Art Thou?" and "A Serious Man." They've brought their unique filmmaking sensibility to a new version of "True Grit."


Q: Why do a Western?


Ethan Coen: I don't think we thought of it as a genre movie so much. It is a Western, in-arguably, because it does have six guns on horses. But, it's not a Zane Grey story. It's not a Western in that sense. We were thinking more about the novel than doing a Western per se...

Continued on Fresnobee.com
90% of the time I see movies in previews or opening weekend, my Mom goes to the mo
vies once a year, if that; so what are the odds that the ending of

The Tourist

would totally be spoiled by my Mom accidentally spilling the beans before I had a chance to go see it! Luckily, exquisite

Angelina Jolie

, eccentric,

Johnny Depp

, enchanting Venice and the heaps of sumptuousness brought to life by director,

Florian Henckel von Donnersmarck

, wasn't lost in knowing the ending.



Q:

Americans tend to like escapist movies like this because of the exotic locations, but for someone who's grown up so intercontinentally, does Venice have the same kind of allure for you?
FH VonD
-It didn't feel so exotic, but it still feels incredibly beautiful. The two most beautiful places in the world that I can think of are Paris — or at least certain parts of Paris — and Venice. Living in Venice for almost half a year was something quite extraordinary. And with the Venetians themselves ... that place never loses its beauty...

Continued on Vulture
My "boyfriend" Matt, says he doesn't want to see me very often, so that he can really lo
ok forward to being with me when we do get together (once a month). I know, unacceptable
, but it's not as bad as it sounds. Still, in order to keep me interested under these circumstances, I s
wear he must have decided to emulate

Owen Wilson's

character (coincidentally named Matty)
In

How Do You Know
. My Matt gave me a beautiful Gucci time piece
for Christmas,
Matty (Wilson) gives

Reese Witherspoon's

character, Lisa an expensiv
e watch as a symbol of pre-engagement - "My Dad gave a watch to my Mom when they were dating and boom, seven years later they were married".
I haven't been impressed by too many romantic comedies of late, and this one has one of those cliched titles that I hate, but

How Do You Know

has good romantic bones. Lisa is a professional softball player at the end of her career.

(

side note

: I saw Witherspoon say in an interview that in order to train for this part, she was given a coach and practiced softball for 3 hours a day for months. Yet during the entire movie, you see her play the game a total of 10 seconds)

In an attempt to console herself with meaningless sex after being cut from the team, Lisa has a one night stand with Matty which comedically develops into a casually committed relationship.

Meanwhile, George's (

Paul Rudd

) life is falling apart due to an investigation by the Feds for financial fraud. The company is headed by his father (

Jack Nicholson

) but George is on the hot seat. George calls Lisa to explain why he hasn't called her. Only she wasn't expecting to hear from him, cause she doesn't know who he is. One of her teammates gave Lisa's number to George for a set up, only hadn't had a chance to tell her to expect his call.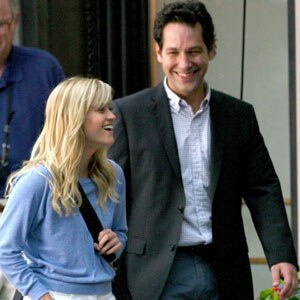 I was on the street watching the filming of the scene when Lisa and George leave the restaurant on their first date. It's actually the restaurant Chops, but although this film was made in Philadelphia, it's not set in Philly. It's just a fictional city, it's hard not to recognize City Hall and Rittenhouse Square Park, but most locations are camouflaged and disguised to keep it from having a Philly flavor, they don't even use a Septa bus.


Now, this is no

Pretty Woman

or

When Harry Met Sally

, the standard by which I measure all romantic comedies, but it's a hell of a lot more original than

Life As We Know It

.

How Do You Know

keeps a good tempo. Directors, like

Garry Marshall

,

Rob Reiner

and

James L. Brooks

understand how to give you blunt sentimentality with genuine likability. I know it sounds absurd, but I would only trust a romantic comedy to a person who understands good TV.


Speaking of sentimentality, I think most fans of this genre will enjoy the Play-doh scene near the end. It's not quite as good as "You complete me", (

Jerry McGuire

) but anyone who's at a point where their life plan seems so uncertain, will find encouragement in this lemons to lemonade gift of love.
Tinsel & Tine (Reel & Dine): Philly Film, Food & Events Blog