Tuesday, December 14, 2010
Nothing like the twinkling stars and glow of excitement at this time of year! Not the Holidays, I'm talking Golden Globe Nominations!


(Films highlighted below are linked to
Tinsel & Tine's
Commentary)
I've seen everything in the

Drama category

except

The King's Speech

which I plan to see next week, but I can't imagine that it will change my vote for

Black Swan

.
Comedy or Musical

- They've included

Burlesque

only because it is a musical, they did the same thing with

Nine

last year. Although, I personally felt

Nine

deserved a nomination. I was supposed to see

The Tourist

this past weekend, will see it this coming weekend, but I'm having a hard time believing this is the best Comedy of the whole year? What about

Cyrus

? or

The Extra Man

? These films were truly original and very funny.
Actress

- I just saw

Nicole Kidman

in

The Rabbit Hole

last night

(check back for review)

. She's just a slightly more fragile version of her usual self.

Jennifer Lawrence

in

Winte
r's Bone

, however, is fierce! She should win hands down.




Actor

- I'd like to see

Jesse Eisenberg

get it for

The Social Network




Supporting Actress

- Again, without having seen

The King's Speech

and I
don't know who

Jacki Weaver

is and I've read nothing, heard nothing about
Animal Kingdom

. So I'll go with

Melissa Leo

, she plays a tough as nails, working class,

Kris Kardashian

wannabe in

The Fighter

.
(note: My co-blogger at PFS and I are splitting up blogging duties on the films with Oscar buzz, so he's going to write about

The Fighter

and I choose

The Rabbit Hole

for this week).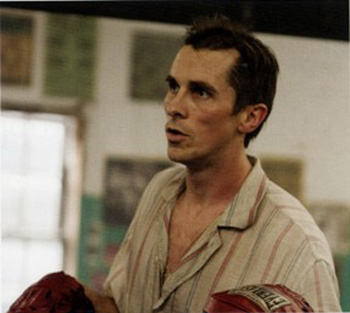 Supporting Actor

- Up until now, I would have gone with

Jeremy Renner

in

T
he Town

, but

Christian Bale

is living, breathing and starving
in his role as a strung out, has been brother in

The Fighter

, it's worth seeing this film solely for his performance.
Screenplay

-

Aaron Sorkin

for

The Social Network

. I saw some of the interview with
Mark Zuckerberg

and even though he talks about the inaccuracies, you still got the sense that he felt it was a pretty darn good movie. And it is. Jessie Eisenberg is perfectly cast, but the real star of the film is the believably witty
dialogue and the unfolding of the tale.
Director

- Normally, the best film should go to the director of that film, so if I'm choosing

Black Swan

, I should choose

Darren Aronofsky

, but

Inception

is much more complicated in terms of shooting, so I'm going with
Christopher Nolan
.
Click

HERE

for Complete List
of all categories
Mark your calendars for Sunday, January 16th
!