Monday, October 25, 2010
Sunday, (10.24.10) the official last day of The Philadelphia Film Festival, was my first screenings at Ritz Five, it was
unintentional, but everything
else I saw just happened to pla
y in University City or
The Prince. I saw

Housemaid
a South
Korean film about a overly privileged, insufferably a
rrogant rich business man who ta
kes adva
ntage of his houseke
eper/nanny.
When she becomes pregnant his wife and mother-in-law conspire to get rid of her. The set production of their m
ansion
is awesome, looks as if they're living in a exquisitely appoint
ed 4 star hotel. The film however, plays rather all on one
level, felt as if scenes were just repeating themselves. Also feel the ending is too dramatic and surreal in comparison to the rest of the film. It's the remake of a film made in the 1960's that I understand is far better than this version. Unfortunately, I missed that screening which played at noon, having overslept after being out late the night before at the closing night party.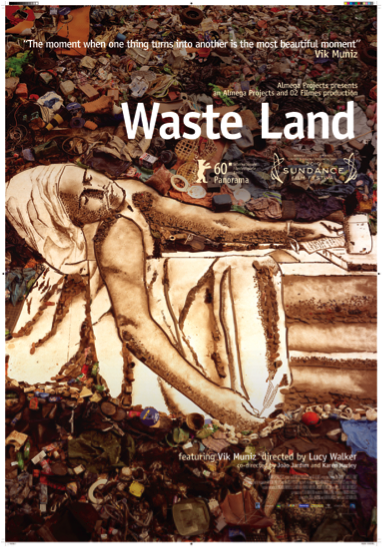 I also saw the documentary

Waste Land

, which is the
complete opposite of its title.
Commentary and Q & A with filmmaker

Lucy
Walker

will be on the site later this week.
The best part
a
bout blogging for PFS is not just getting to see the films in this exceptionally well programmed festival.
It's not getting into the parties for free, it's having a reason to talk to people.
With my official blogger badge, I got to speak to a lot
of friendly filmgoers and even a few filmmakers; althou
gh in the future, I'd like to be bolder and actua
lly get a few
interviews. Still, as you can see from the blog, after screening Q & A's were plentiful, making individual interviews
almost unnecessary.


These closing day films I saw with

Darryl

, a brand new
member of PFS.
I thought it might
have been a casual date, there seemed to be a vibe the previous night at the party, but I guess I thought wrong. At any rate, he said he's been coming to the festival for years, but this was the first time he joined and
bought a pass. He saw 29 movies. I saw 17, but also went to
2 panels, 3 parties, a workshop and got to use my 10% PFS member discount at

Positano Coast

.
The

Awards Ceremony

was held on Saturday before the closing night film

127 Hours

– you can download my digital
voice recording of the presentation from DivShare.com
Click

HERE
(pictured
Ruth Perlmutte
r
)


Click film titles for trailers to each movie.


Best Short Film:
Kelp
directors:
Benjamin Dohrmann

,

Seth Cuddeback
Filmadelphia Award for Best Local Feature:
L
ebanon, PA
director:

Ben Hickernell
(pictured Hickernell and Mayor Nutter)
click

HERE

to read blog commentary and Q & A for

Lebanon PA
Archie Award for Best First:Time Filmmaker:
Hesher
director:

Spencer Susser
Best Narrative Feature:
Carancho
director:

Pablo Trapero


Best Documentary Feature:
Life 2.0
director:

Jason Spingarn-Koff
Danny Boyle's

(

Slumdog Millionaire

) new film

127 Hours

, based on the true story of
outdoorsman

Aron Ralston

(played
by

James Franco

) is everything you've heard so far-
surprisingly riveting, vivid, thrilling and so, so hard to watch sitting
still. Anyone watching me would have seen a lot of twisting and writhing in my seat out of discomfort watching what
this
man had to
endure. I admit to shutting my eyes completely at the crucial moment.
Click

HERE

to read a review of

127 Hours

by fellow PFS blogger,

Colin George

(FARCE/film).
After the film, I
interviewed this couple –

Heather

-

"Phenomenal movie, I was on the edge of my seat the whole ti
me. I
really thought he was going to cut his arm off every 10 minutes. I just kept crin
ging, thinking, I don't want to see this,
but I watched it all, the final scene between my fingers".

Kadar

– "

I don't know if I could have done it, or maybe I would
have tried to cut if off a lot sooner" I was really hoping he wasn't going to have to resort to drinking the pee, that the rain
storm could have been real."
Julia

in the gray coat answered fo
r this group of film attendees, she writes a blog too –

Philly Inside Out

"I thought it
was well directed and really well acted. You go in thinking how are they going to make this movie last an hour and a
half, but I was captivated by just this one guy. Only criticism, the "Lion King" (type) music at the end was a little
cheesy."

Then on to the Closing Night Party (212 N. 12th Street)
View pictures

on Lorraine Daley Flickr page click

HERE

.
Seeing as there was nothing to eat but TastyKakes
and Philly Soft Pretzels, I was anxi
ous to get on the dance floor and work off some of those empty calories.
It took awhile for everyone to get enough Dock Street brews in them
,but once people were on the floor,
the night went on til late; after a quick late night stop at a diner, I got home well after 3am.


I also did a few blogging interviews at the party:

Tammy's

favorite film of the festiv
al was

Poetry
"A full story, very layered"
Ernie Vecchione

flew in from the west coast just to see

127 Ho
urs

and loved it. Vecchione is the creator/executive
producer of a new webisode series

SEX ED

.

Susan Dietrich

listed her 3 favorite films of the festival in order:

Cafe

,
Copacabana

, and

Every Day

(I'm glad I caught

Cafe

, but I too really wanted to see

Copacabana

and

Helen Hunt

in

Every Day

!)
And

Renata's

favorite was opening night film

Black Swan

(click for Aronofsky Q & A)

Renata also writes a fashion blog
scorpion/disco

.


So th
at's it! 10 days of watching life, death, love, laughter, tears, drugs, infidelity, commitment, gun shots, and so much sex! The only movie without simulated copulation was

Megamind,

in addition to the subject, saw 4 characters choosing or not choosing abortion. I had a lot of fun!

I appreciate everyone who stopped to talk to me, but it's disappointing to have received
only two blog comments (on PFS site) from one person, (her comments were terrific!) Still, I'll say it once again:
Love to hear from you! Feel free to make comments on the film festival overall. What you saw, Mini reviews or
comment on my commentary and Q & A's.