Tuesday, January 19, 2010
This year
I invited a recently acquainted Internet date over Sunday night to enjoy me, and e
njoy with me, all the glitz, glamor and star studded-ness of the Golden Globes - and he declined! Worst yet, he didn't know what the Golden Globes were!


Not sure how it is that he knows nothing about the Golden Globes when he likes movies; he even saw
The Hurt Locker
which someone would have to strap me down to see. He saw
Avatar
twice, which I have yet t
o see, mainly because of the additional cost, and because 3D often g
ives me motion sickness. However, seeing
Avatar
is now a must before March 7th or the Oscars will be lost on
me, like last year, when I waited too late to see
Slumdog Millionaire
. The other must see is
Up in the Air
, which was on my list of things to see anyway.
My pick for Best Dressed is a toss up between
Halle Berry
, who almost never goes wrong
Kate Hudson
, who although I agree the platforms may not have been the best shoe choice, I loved the illustration of her gown and
Christina Aguilera

gorgeous gown, perfect fit! Too bad BURLESQUE was a poorly executed movie musical.
Drew Barry
more's
dress would have been my Best Dress
ed choice, if
it
weren't for th
e sea urchin parasites attached to t
he shoulder and
hip of the dress.
And my adored
January Jones
, ruined her look with
that pre-school, picture day headband.
Mo' nique
started the evening off right with a very honest and
emotional speech. Well deserved, her
role in

Precious

seemed so out of character for her. It's always amazing when a comedian delivers, such a powerful performance. It's just too bad she didn't shave her legs for the red carpet!
Meryl Streep
plays the character of Meryl Streep very well, there a sincerity in that. I thought her make up was flawless. I'm glad she won for
Julie & Julia
, rather than
It's Complicated
,
although, that is a very funny movie, it's actually a great example of a food and film flick, but I never had a chance to write my commentary.
Drew Barrymore's
wonderfully heartfelt, disjointed speech and her beautifully colored and constructed Galliano gown. However, the attempt at Va Va Voom hair, was more combed with a broom hair. And why all the adhesive hand holding with Jessica Lange?
Kate Winslet
went a bit overboard with her overly long and overly emotional acceptance speeches.
Sasha Baron Cohen
and
Ricky Gervais
poor attempts at humor.
I fall in love with
Robert Downey, Jr
, more and more every time I see him, is his online doppelganger on any dating site?
I created my new logo for Tinsel and Tine, based on my love of the show
Mad Men
, so I feel I sent them the good vibrations which allowed them to walk off with Best Drama for the third year in a row.
Matthew Weiner
is a genius!
Upon being honored with the
Cecil B
. DeMille
Award,
Martin
Scorsese
delivered a definitive acceptance speech meaningful to all types of film buffs everywhere.
Click
HERE
to see the Scorsese film montage from the Golden Globes.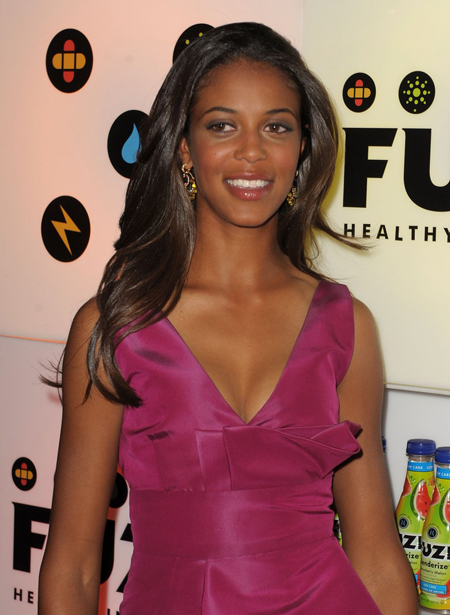 I love my sister's observation that the whole fun dynamics are like high school: Julia, cheerlea
der, Meryl smart but not sexy girl, Robert Downey, jr class clown and thespian, etc... My sister also believes that lack of diversity is still an issue. True, we haven't reached an even playing field,
but I see Hollywood integrating more and more; in fact, I was wondering if

Mavis Spencer

, daughter of

Alfre Woodard

, was the first woman of color chosen to be Miss Golden Globe?

Last, but not least, I was unaware

Julia Roberts

is working on a film based on my very favorite novel
Eat, Pray, Love
By
Elizabeth Gilbert
. I don't know HOW I missed hearing about this, it's so exciting! Even more exciting than the next
Sex and the City
which is prominently marked on my 2010 calendar for May 28th!
ARCHIVE OF GOLDEN GLOBE RECAPS
76th Annual Golden Globes
75th Annual Golden Globes
74th Annual Golden Globes
73rd Annual Golden Globes
72nd Annual Golden Globes
71st Annual Golden Globes
70th Annual Golden Globes
69th Annual Golden Globes
68th Annual Golden Globes
67th Annual Golden Globes